What is it?
The leafy part of the plant that is chopped and dried when the seeds are ripe. In olden times herbalists liked to prepare their tinctures from the green flowering unripe wild Oats but many attribute equal virtue to the more mature golden variety.

How has it been used?
Oats have been a staple food for many generations and the regular consumption of Oats helps to promote healthy skin, hair, nails and teeth. Whole oats help to lower cholesterol and provide a particularly nourishing food for the blood and fibre for the bowel.
The tradition of using the 'straw', the dried herb of the oats plant, as a medicine also goes back a long way and has a strong theme of being used for nervous system disease and debility.
Oats have been used to treat conditions such as headaches, migraines, shingles and fatigue. Oats tincture and Oatstraw tea have been recommended for degenerative wasting conditions such as multiple sclerosis and there is a history of using Oats in epilepsy treatments.
In Europe there is a long tradition of using Oatstraw in baths as a treatment for rheumatism and painful muscles as well as for kidney of bladder problems.
Oats have been used to help lift a depressed mood and help people who are withdrawing from addictive drugs or alcohol.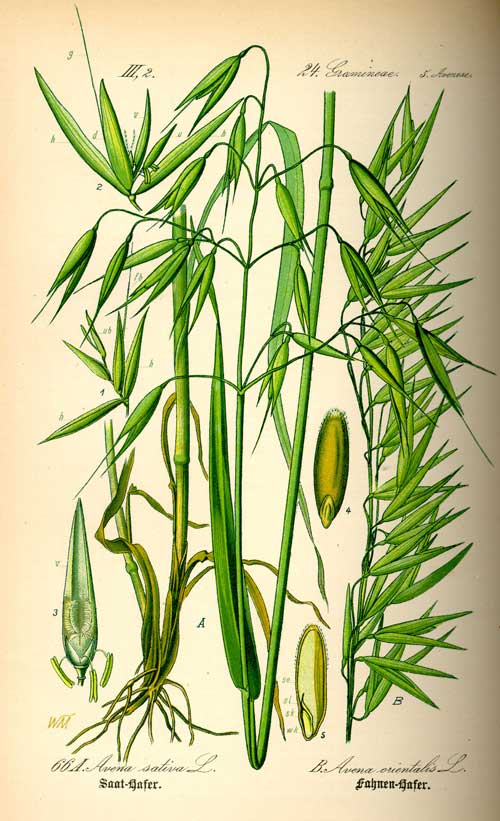 TOP | HERBS A-Z LIST

Science on Oats
~ Oats extract prescribed in apple juice produced a reduction of 66% in daily cigarette consumption compared with no change for those receiving placebo which was apple juice alone (Netherlands Patent 741265, 1976)
~ In a clinical study in 1968-1969, 6 out of 10 chronic opium addicts gave up the drug after treatment with Oats (2 mls of the tincture, three times a day) over 27-45 days. Two of the remaining four addicts reduced their intake. The participant's status was maintained on follow up (3-19 months later) and no serious withdrawal symptoms or side effects were noted. The dose was 2mls, three times a day of tincture made from the whole plant excluding the root (Anand CL: Br Med J 3(775):640, 1971)
~ In a randomised, placebo-controlled clinical study involving healthy volunteers and bronchial patients who were habitual smokers, those given oats extract achieved a significant reduction in tobacco use compared with controls. The reduction was still observed 2 months later. The dose was 1 ml of Oats tincture four times daily for a period of 28 days (Anand CL: Nature 223(5320):496, 1971)
~ The authors, titles and the 'where-and-when' published of over 50 further studies and articles on Oats and Oatstraw are listed in a PDF found here

Safety of Oats

No adverse effects are expected from taking Oats extracts, even in high or frequent doses. It may be confidently taken during pregnancy or whilst breastfeeding and used by the young or old with safety.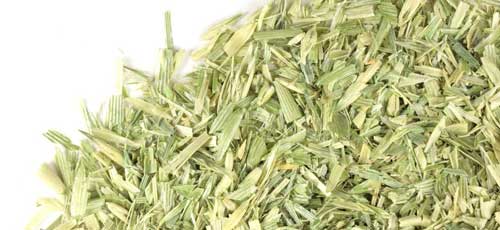 Personal experiences
There is a clue to the unexpected power of Oats in how it has been used in the withdrawal from drugs or alcohol. If you look into this usage you will see that it is not an isolated idea from just one community but rather oats extracts have been highly rated as helping with withdrawal by diverse people in different places around the world, including being used for the most severe opiate addicts.
Oats seems like such a commonplace herb that it is easy to under-rate its virtue by comparison with more exotic, expensive and rare plants, -- but of course this is just the perspective gathered by familiarity.
The truth is that, just as the food of the oats seed is greatly fortifying to the body, so the tea or tincture from its herb can be remarkably strengthening and uplifting to the mind.
When you give Oats tincture to someone who is exhausted and/or wound up you can usually see a visible effect over a matter of days. Oatstraw works at a deep level in the nervous system to nourish and support and you can see and feel how people relax and become happier from its consistent use.
If you who are reading this are studying herbal medicine or if you have your own reasons to want to know this plant ally at a much deeper level then I recommend you take a small dose (e.g. one tsp) of the tincture of Oats or alternately drink a cup of Oat Straw tea and then, with a quiet and attentive mind, closely observe its 'action' i.e. how it makes you feel. At the very least you will likely feel very relaxed from it, perhaps you will have some further experiences of your own that I would rather not over-influence before-hand. The effects of Oats go deep but they are likely to be subtle so you will need to keep 'tuned-in' for a while but I think you will eventually feel for yourself how this is a plant medicine that gets right into the deep parts of the nervous system... anyway the best way to embrace this old experiential way of learning is to just do it!
Further to this, if you would like to learn more about the ancient art of pulse testing, a simple but powerful way to ask the intuitive intelligence of the body for its responses to a herb by feeling the pulse whilst giving a tiny dose by mouth, read here
I don't think you can overdo teas or tinctures from Oats and it is an entirely safe herb for any age or time of life. That said there will unlikely be a greater benefit from taking more than what is a solid therapeutic dose which I would personally see on average as several grams of the tea and between 4-5 mls of the tincture in a day.
Oatstraw combines perfectly with Valerian for soothing a stressed nervous system, with Motherwort for relaxing physical tension from the heart, and with Skullcap for releasing nervous tension from the head and with Chamomile as an overall calming and nurturing tonic for all ages.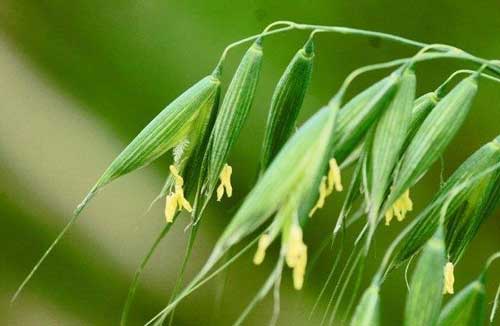 TOP | HERBS A-Z LIST

Constitutional note
Much of the information here about the traditional uses of Oats is consistent with the model of thinking whereby one may treat problem A with plant B.
There is value in this approach, especially in how it helps us pass on useful knowledge to one another, but it falls short in one vital area; and that is that people are not all cut from the same cloth! Something that works brilliantly for one person may do less for another -- why is this?
The reason is that people vary in their constitutions as to whether they are either hotter or cooler and, at the same time, either dryer or damper. This interesting and useful subject is introduced further here
There is an old wisdom in treating the person first and the condition second and in this light Oats can particularly offer its benefits when a relaxing action is needed in the 'cycle of healing', more about this here

Excerpt from Felter & Lloyd's Kings Dispensatory from 1898
Oats extracts rank among the most important restoratives for conditions depending upon nervous prostration, and for the nervous exhaustion consequent upon typhoid and other low fevers, and the accidental disorders arising from these complaints, as weak heart, insomnia, etc.

In enfeebled states of the heart muscle it acts as a good tonic to improve the energy of the organ, and is recommended to prevent relapsing cardiac rheumatism.

It has been much used as a remedy to assist the morphine-consumer to throw off the habit, and to sustain the nervous system while undergoing that ordeal.
Please understand that I cannot advise you, including on products or dosage, without seeing you in person in my clinic but for ideas on how you might find a good herbalist in your area read here

This living 'book' is my labour of love so, wherever you are, I wish you peace & good health!

TOP | HERBS A-Z LIST